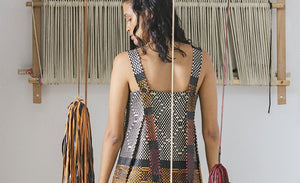 "LOOM" or "TELAR"
This Capsule called "Loom" or "Telar" is a Drop of limited pieces made on a horizontal loom built in a handcrafted way with wood. From strips of leather of different colors, different geometric figures are created in some of the designs, and in others they are organized to create simple stripes of colors.

Initially created with the talent of the artisans of our workshop, they pass into the hands of Hany, a master weaver from San Jacinto. Each piece takes approximately 4 days to create; first the leather strips are cut, then the strips are joined together to create long continuous strips, then they are woven and are then returned to Andrea Landa's workshop for completion of the final garment.
Each garment is unique due to its handmade construction and production is limited to 10 pieces for each design.
This is the result of teamwork where several hands come together to create unique, versatile, loose-fitting pieces, perfect for any occasion.
Drop telar
loom telar
Blazer made 100% with our loom technique; which consists of cutting thin strips of leather that are then woven by hand.
top
telar
Our Loom Top is 100% hand cut and knitted in calf leather using our vertical loom technique.
Leather strings our cut together and later knitted in our loom by one of our master artisans to create a blocked color pattern.